One-and-Only Board made from the Best Timbers
With the concept of "The One-and-Only Board Here", we deal with Japanese cypress and cedar grown in Nara prefecture's Yoshino region.
Yoshino's Specialty

Nara's "Yoshino" is particularly popular for its sakura, but it is actually also a major producer of Japanese cypress and cedar.
The timber has straight and uniform wood grains as well as very few knots.
Due to its high strength thanks to dense tree rings as well as its beautiful color, gloss, and wood grain, it is highly regarded as a material with both excellent designability and strength.
Would you like a one-and-only board—made from virgin Japanese cypress or cedar that has lived for more than 100 years—for your counter or table?
Rare and Valuable Timber
One-and-only board made from virgin Japanese Cypress (Hinoki)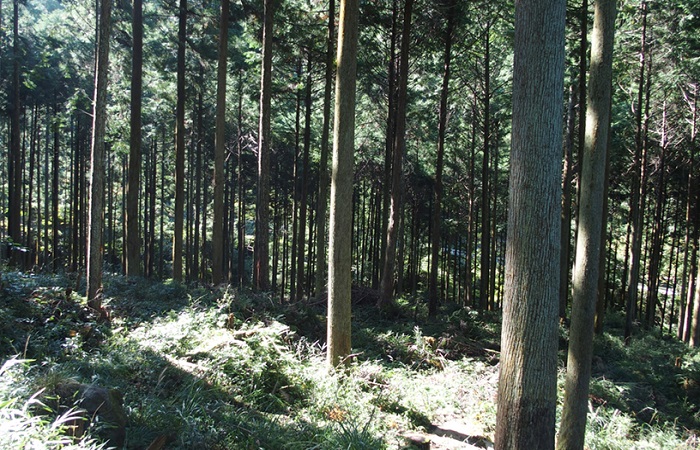 The cypress and cedar trees in Yoshino are planted using a method called "dense planting" in which the tree seedlings are planted in close proximity. This prevents the trees from becoming overgrown, making the tree rings dense and uniform. Once the trees have grown to a certain degree, thinning is carried out to control the speed of growth.
Rare and Valuable Timber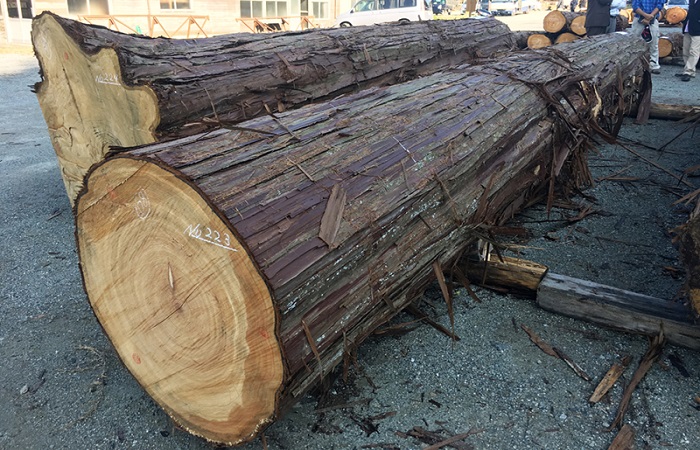 On the felled tree log, we can see white spots in the middle. This is the mark left by "pruning", the process of cutting off branches to prevent overgrowth during the cultivation process. The scars left by pruning become knots and are enveloped by the tree rings in time. The sooner the pruning is carried out, the more the scars will concentrate in the middle, allowing us to make timber products free of knots.
Mount Yoshino's forest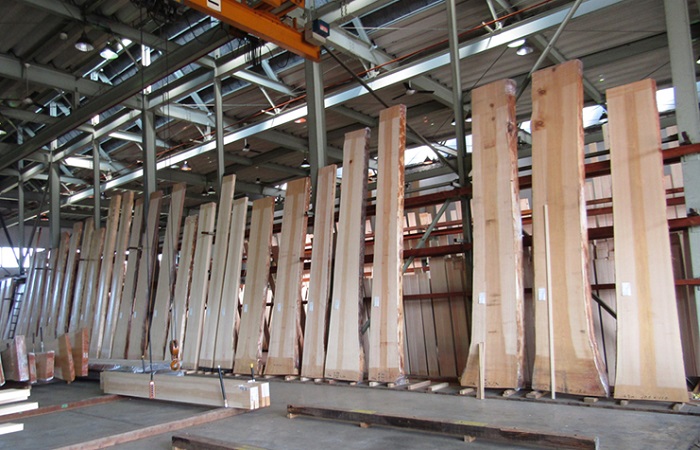 Tirelessly repeating the many mundane tasks of pruning, thinning, and weeding, we cultivate these trees for long periods, from 100 to 200 years. As they are cultivated for a much longer time than other timber products, they are very rare and valuable.
For counters and tables
Our virgin one-and-only boards exhibit tidiness and elegance,
often chosen by Kappo cuisine restaurants, sushi restaurants, and architects.
Other than shop counters, we also recommend it for various uses such as dining tables and low tables for Japanese-style tatami rooms.
*Please note that we do not sell finished products.
We accept custom orders for painting and installation of legs.
You can check every corner of the product using the 360-degree 3D image.
For some products, we post 3D images that are almost identical to the real thing.
You can view it from any angle you like by manipulating the image.
Please use it to check for knots and the shape to help you choose the perfect product.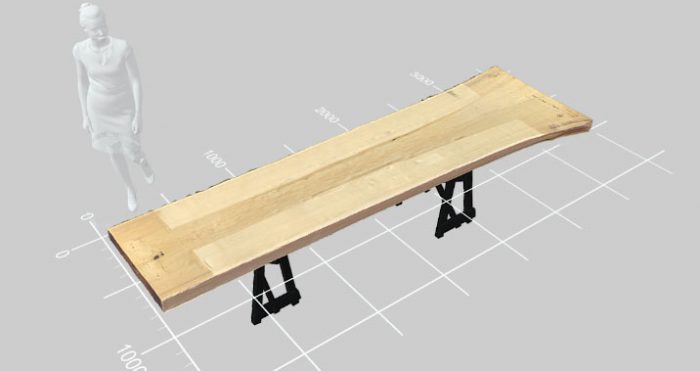 *The 3D image on the product page can be used in BIM.
*BIM, or Building Information Modelling is a new architecture workflow of turning design drawings that are traditionally drawn in 2D into 3D models, while also adding additional information such as cost and finishing details for ease of designing and maintenance.
---
First, please inquire about any product or ask for a quotation from the Contact Form.